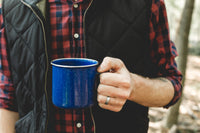 Quality over Quantity
Coffee is simple. If you enjoy it, it's good coffee! Thats the secret of anything in life. Finding something that makes you happy, and making excellent coffee is what we do at TAC.
There is no better way to start your day than lingering over the smell, and taste of an excellent cup of coffee.
Enjoy, Fresh, Exquisite Coffee from the Americas.
Terra Americas Coffee Roasters.